Artrix Social Equity Program (ASEP)

100,000 Units

to Support You and Promote Equity
The Whole Story Revolves Around You
From day one, we've been poised to deliver 100,000 pcs 510 carts to social equity business owners in the cannabis hardware industry that need assistance and support. Aiding cannabis business owners in overcoming challenges they face when starting and developing their businesses is at the heart of what we do. Through collaboration with you, our social equity reach and impact continue to expand.
If you're a social equity business owner in need of product support to jumpstart your venture, please complete the ASEP application form for extended assistance.
How Artrix supports Social Equity Business in Cannabis Vaping Industry

Artrix supports Social Equity by providing 510 cartridges and business services in the cannabis vape industry, includes:

Artrix's 510 Cartridge 'Drillor' for free (minimum quantity is 5k)

Artrix 3-in-1 business service

Strategy consulting services (valued at $7000)
Info bank access for six months
One regional market report for your targeted market
One set of product marketing resources
Professional oil-filling training resources, including:
Oil-filling operation document

Who is eligible for applying ASEP?

Eligibility: To participate in our Social Equity Program, you must meet one or more of the following qualification criteria:

Your business is part of an underrepresented group within the cannabis industry. Example includes but not limits to, businesses owned by minorities, women, or disabled veterans.

You hold an existing social equity license designated by your state agency.

Your majority-owned business has had cannabis convictions and/or has been negatively impacted by the war on drugs prior to national legalization, with no sales to minors or records of violent crimes.
How to Get Involved
If you are interested in applying ASEP's benefits and services,
please fill out the application form.
Apply ASEP Now
Please note: Submitting an application does not guarantee qualification of the program. Our ASEP Application for Driller will be closed at Nov 10, 2023, please submit the application form before it.
The power of one pair
increases p
roductivity by
up to 32%

increases
monthly income
by up to 20%

In emerging and pre-
emerging markets,
one pair of glasses
Our partners
From the beginning, VisionSpring has been our primary partner in the Buy a Pair, Give a Pair program. We've supported their social entrepreneurship model internationally, which makes it possible for low-income men and women to acquire and sell radically affordable eyeglasses, earn a living, and care for their families. In addition to providing vocational training, this model makes eyecare significantly more accessible in communities with few or no other options. Over 50% of VisionSpring's customers are getting glasses for the very first time.
In 2015, we created Pupils Project, our program with a number of organizations and local government agencies, like the Department of Education in New York City and the Department of Health in Baltimore, that provides free vision screenings, eye exams, and glasses to schoolchildren. According to the Center for Disease Control and Prevention, vision disability is the single most prevalent disabling condition among children in the U.S.; our Pupils Project model eliminates barriers to access by providing free prescription glasses and meeting children in their classrooms, where vision issues often first come to light. We also support a similar school-based model in Mexico, with the organization Ver Bien, that helps bring glasses to elementary public school students across the country.
As part of our Pupils Project program in Baltimore, our partners at Johns Hopkins University spent many years studying the impact of school-based vision interventions on academic outcomes—essentially, the effect glasses might have on a student's performance in school. This is a topic that had never been studied in a rigorous academic setting before, and we were proud to partner with Hopkins to provide the glasses for this first-of-its-kind work.
The study, which was published in Journal of the American Medical Association (JAMA) Ophthalmology in September 2021, found that reading scores increased significantly for students who got glasses—and there was also significant improvement in math for students in elementary grades. The improvements were most striking for girls, special education students, and students who had been among the lowest performing.
The overall gains for students who received glasses were equivalent to adding two to four months of education onto the school year; for students in the lowest quartile or participating in special education, wearing glasses had an impact that equated to four to six months of additional learning. In comparison to other widely used educational interventions, the impact of eyeglasses is larger than that measured for providing students with computers, extending the school day, or attending urban charter schools. For students performing in the lowest quartile at baseline and those in special education, the impact from eyeglasses was also more powerful than tutoring, the most effective educational intervention known. These are incredibly powerful findings, and we can't wait until every child has the glasses they need to learn and succeed.
Doing good at work
From Mexico to Zimbabwe, Bangladesh to Sri Lanka, our impact has reached
50+

countries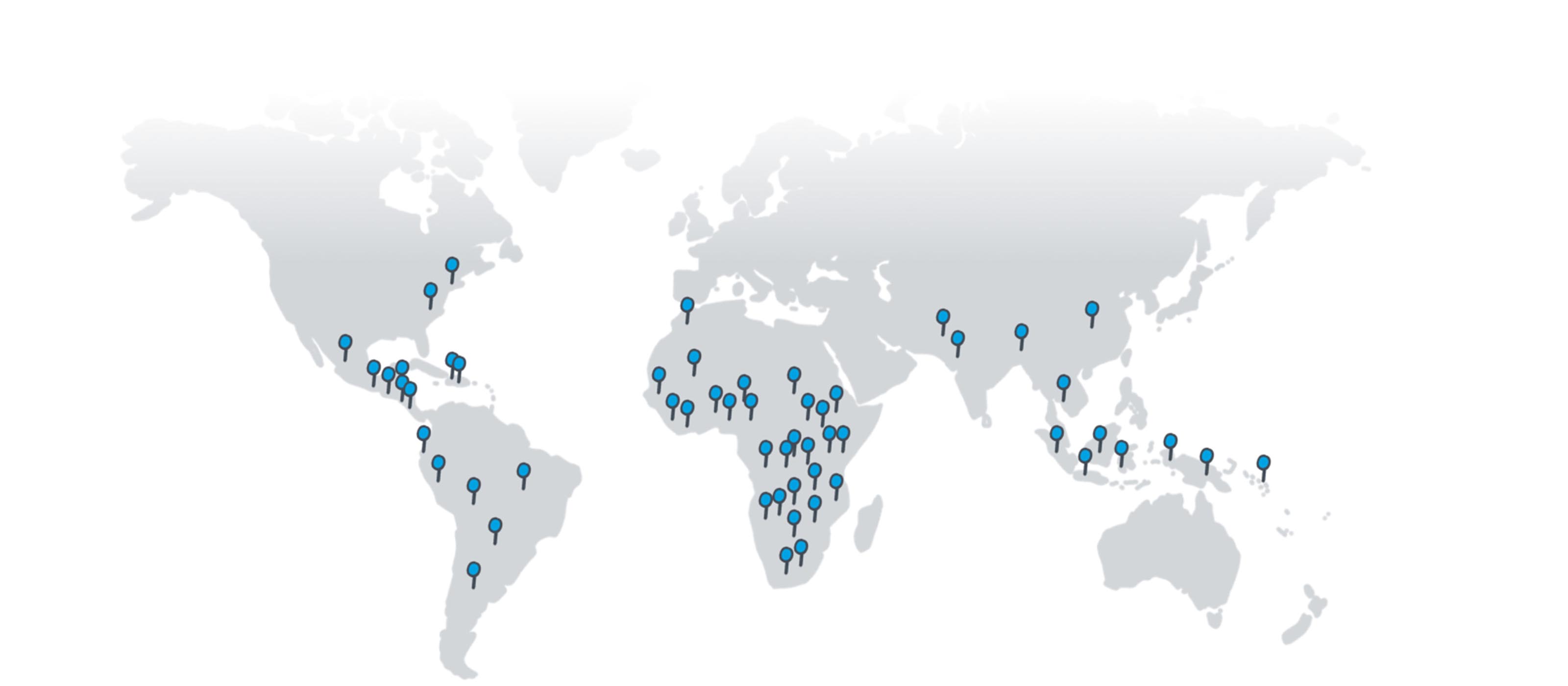 This is just the start but our sleeves are rolled up,
and we're excited to move forward together.