News & Releases
By Sussi Liu
|
10 November 2023
Artrix Launches DabGo – The First-Ever Disposable Dab Pen for Ultimate Portable Cannabis Dabbing Experience
Topics in this article:
DabGo
Disposable Dab Pen
Cannabis Wax
Keywords:DabGo, Disposable Dab Pen, Cannabis Wax
Artrix, a global leader in cannabis vape hardware industry solutions, providing product manufacturing, marketing support, and business consultation, proudly announces the debut of DabGo, the cannabis industry's first disposable dab pen. This revolutionary 2-in-1 value combines the convenience of disposable vapes with the performance of dabbing device, offering consumers a portable, efficient way to vaporize various popular cannabis concentrates and elevate their dabbing experience.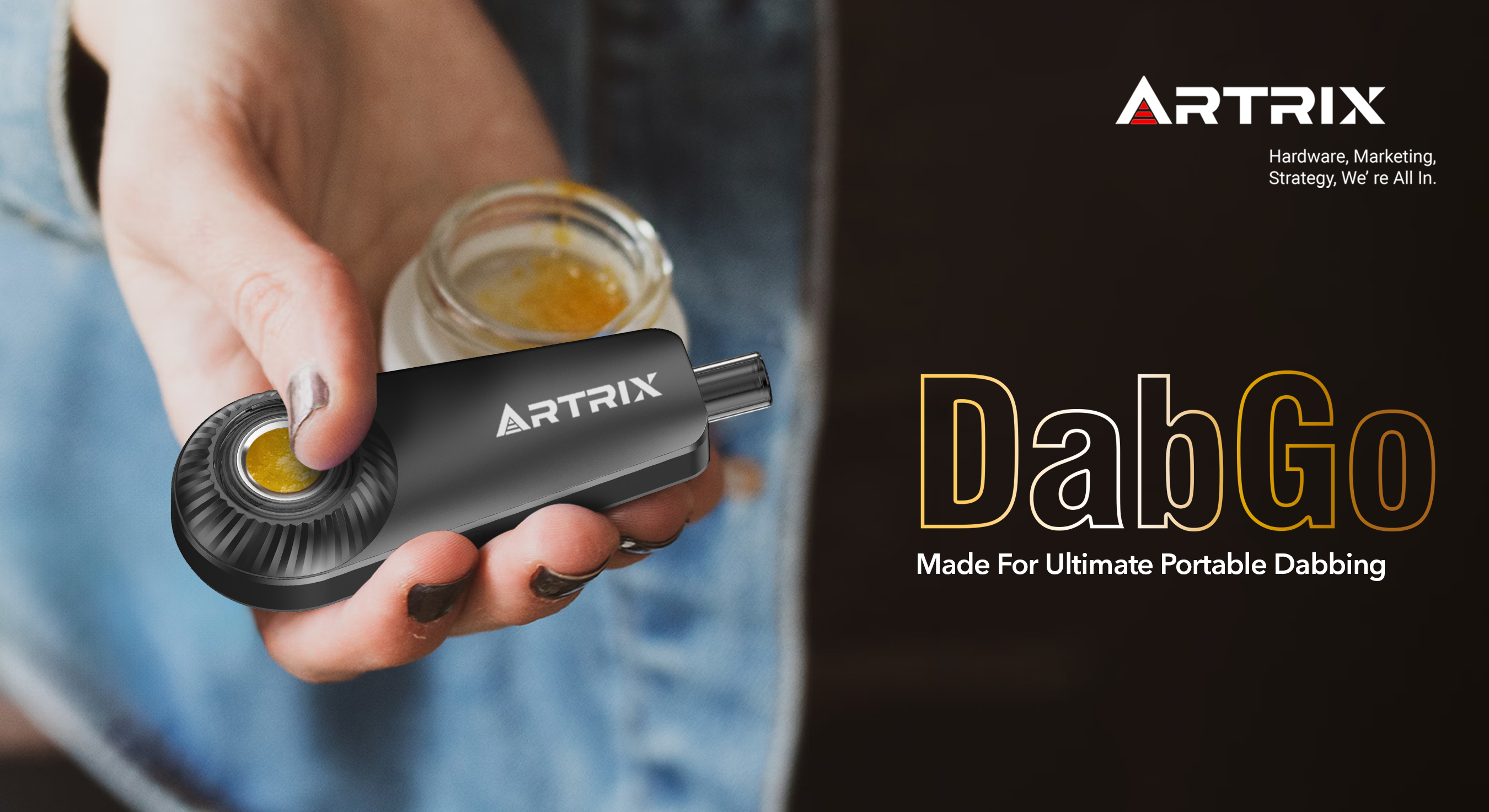 DabGo is a pioneering all-in-one dabbing device that holds great value for both cannabis enthusiasts and businesses. It's designed specifically for vaporizing cannabis concentrates, including live rosin, wax, budder, shatter and other popular cannabis extracts. DabGo empowers consumers to enjoy the pure pleasure of a potent high in an all-in-one product solution. Say goodbye to the hassle of cleaning, filling, and maintaining the device, and hello to more time enjoying the precious cannabis concentrates.
Moreover, DabGo boasts a streamlined and efficient design, from filling the device with sticky cannabis concentrates to sealing it for use. With features like an expanded inlet space, a snap-in window cover, and a button-activated design, DabGo ensures user-friendly operation at every step in product manufacturing.
Collin Yu, Chief Strategy Officer at Artrix, analyzes, "More and more data and information tell us that the trend in dabbing and vaping devices is heading towards meeting the demands of portability and efficiency, with many cannabis companies focusing on streamlining and downsizing their products to provide convenient and efficient vaporization experiences. Unfortunately, the market has yet to offer a dabbing device that consistently meets the diverse needs of users across various travel scenarios. We've noticed this gap and recognized the desire for a highly portable, all-in-one dabbing solution in premium cannabis consumption."
Yu continues, "At the same time, a huge challenge exists in the relatively mainstream cannabis vape segment. Users accustomed to cannabis vaporizers are now looking to elevate their consumption experience. These customers are no longer satisfied with conventional cannabis distillates and live resins; they're exploring premium options like live rosin, diamonds, wax, and higher-quality cannabis concentrates. Our dedicated market analysis team has identified evolving product trends in both the dabbing and vaping device segments, and we've found the perfect balance. This is why we've introduced DabGo, a 2-in-1 disposable dab pen that demonstrates that use simplicity and top-tier vaporization can coexist, providing the ultimate portable dabbing experience to all cannabis consumers."
DabGo makes it easy for users to enjoy premium cannabis vape in the simplest way possible, suitable for use anywhere and anytime. DabGo by Artrix is now available in a 0.5g disposable dab pen format, and we are excited to announce a special online product reservation activity for cannabis businesses. Clients who successfully reserve free samples can visit Artrix (Booth 5828) at MJBizCon 2023 from November 29th to December 2nd to collect their DabGo samples and exclusive gifts.
Artrix is an emerging international cannabis vape hardware brand that offers more than just cannabis hardware. It uses an exclusive three-in-one service model that combines superior product solutions, systematic marketing support, and professional strategic consulting to create a great customer experience. Artrix conducts extensive market research and analysis to understand the needs behind each product and provides localized marketing support to maximize its market potential and success.