News & Releases
By Jolin Zhou
|
17 November 2023
Discover the Secrets of Mini Cannabis Vape Marketing Strategy with Mini Beauty Samples
Topics in this article:
Mini Cannabis Vape
Disposable Cannabis Vape
ArtrixDemo
Keyword:Mini Cannabis Vape, Disposable Cannabis Vape, ArtrixDemo
Have you ever hesitated to buy a full bottle of perfume, wishing you could test a smaller version first? That's where mini-samples shine in the beauty world. They let you try a variety of products at a lower cost before committing to a full purchase. Picture this: what if we borrowed this strategy from the beauty industry for another FMCG segment, like cannabis vape samples?
Beauty samples, according to a report by Euromonitor, are the third biggest driver of full-size product purchases, behind only experience and recommendations from friends and family. Thanks to "Beauty Boxes'"and "Fragrance Discovery Set" brimming with sample-sized treasures, the cosmetic industry has seen this trend explode into a billion-dollar phenomenon. In 2019 alone, the beauty mini sample market grew by 13 per cent to a record $1.2 billion in US sales, according to NPD. The secret sauce? Mini-samples offer a low-risk, budget-friendly way for people to explore and fall in love with products before fully committing, particularly when they're premium items.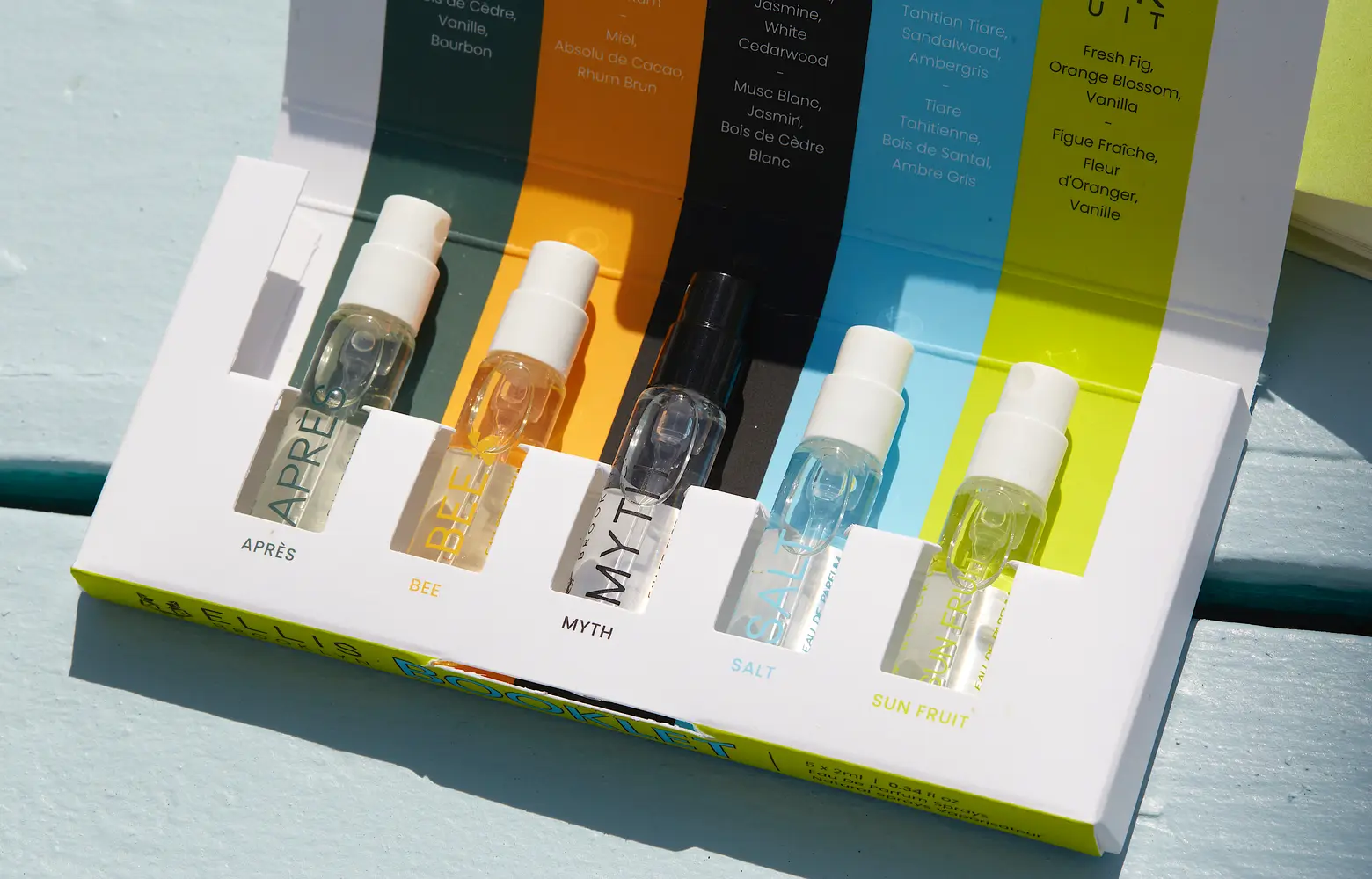 Sourced from Ellis Brooklyn Booklet Fragrance Discovery Set
Let's shift gears and think about cannabis vape. Cannabis extracts and concentrates come in so many flavors and strains. It's a big commitment, both in terms of money and time. But what if we could get our hands on mini cannabis vape sample flavours to test whether they work for us, just like we do with beauty samples? This could not only revolutionise the way we shop for cannabis vapes, but also make it more accessible and a lot more fun.
In essence, by distributing small samples of cannabis vapes through various promotional channels, the industry could ignite a new trend in "mini" products. It goes beyond boosting sales for cannabis vape businesses; it provides cannabis enthusiasts with an exciting and low-risk opportunity to discover their The One.
Mini Cannabis Vape Sample: A Safe Middle Ground Between Cost and Choice
Given the booming beauty sample market, mini samples offer a middle ground due to their unique positioning. This strategy not only offers affordable variety for consumers, particularly younger ones, but also generates valuable market insights for business, fostering a more consumer-centric approach to product development and marketing. Here's why:
1. Affordable Mini Sample Packs: Revolutionizing Cannabis Vape Accessibility
Here's a shocker: cannabis vapes can be expensive, and that's tough for budget-conscious people, especially younger ones. According to a report in the Telegraph, Generation Z in the UK spends up to £2,700 a year on disposable vapes, with one in four people under the age of 26 buying a new one every day, spending between £5 and £10 each time. Cannabis enthusiasts naturally want to explore various flavors and effects, but affordability is often a stumbling block.
This is where mini sample packs could really change the game. Imagine them as the cannabis equivalent of those beauty sample boxes – offering a plethora of options at an affordable price. Take the Liberty beauty calendar as an example: it packages 25 small versions of beauty products into a single box, priced at just £245. If someone were to purchase each product individually at full size, it would cost around £1,000. Unfortunately, the cannabis vape market currently lacks such options.
2. Exploring Diverse Vape Strains with Mini Cannabis Samples
Think about why we love these little perfume testers. We can try different scents, see what works on our skin, and find our favorites. Now, apply the same strategy to cannabis disposable vapes and the journey is even more diverse and personal. You may find that some strains, like the popular sativa-dominant Blue Dream, are known for their uplifting and energising effects, making them perfect for your daytime. Others, such as the Indica-dominant Granddaddy Purple, offer a more relaxing, calming experience, ideal for evening relaxation.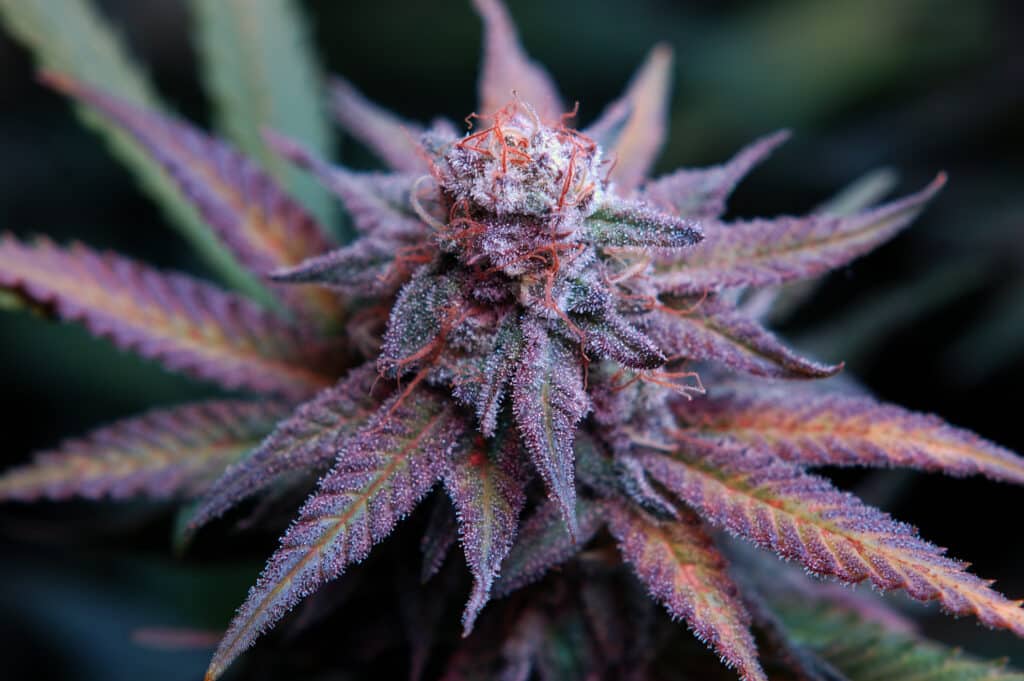 Blue Dream is a sativa-dominant hybrid marijuana strain
Plus, how we react to different strains is super personal. You might always feel energized if you smoke Blue Dream, but that same strain might make another person feel subdued. It's as much about our bodies as the strains themselves. For newcomers or those unsure about vaping, diving into this world can be overwhelming. Mini samples offer a chill way to test the waters, find your vibe, and avoid the bummer of buying a full-size product that just isn't your jam.
3. Building Trust Through Authentic Sample Trials
There's something cool about learning through experience, right? With mini cannabis samples, it's not about getting swayed by flashy influencers or slick ads. It's about personal discovery. You can experiment with various strains and flavors to find what works best for you, whether it's for recreational enjoyment, relaxation, or even for specific therapeutic effects like stress relief or pain management. This hands-on approach builds confidence and trust. So, you're not just buying a vape, you're finding the one that feels like it was made for you.
Now, while mini disposable vape samples sound like a no-brainer, they're not without challenges. As brands move towards more interactive and personal customer engagements on social media, the handling of consumer feedback becomes critical. Estrella, social media director at Artrix, points out, "Young consumers, who are more likely to share their experiences with mini samples on social platforms, provide valuable insights for these brands." Not all feedback will be positive, but how companies respond to and learn from this feedback is key. It's an opportunity to engage with consumers, adapt products to meet their needs, and build trust – crucial in an industry reliant on reputation and customer satisfaction.
Another challenge is the cost of producing mini samples. New processes and materials may increase production costs, potentially affecting prices and profit margins. However, considering Gartner L2's finding that 50% of beauty shoppers are converted to purchase by a mini sample, the potential return on investment is significant. Customers who love a sample are likely to return for the full-size product. For cannabis vape companies, this means an opportunity to innovate and potentially achieve long-term gains and market leadership.
ArtrixDEMO: Redefining Cannabis Engagement with Mini Disposable Vapes
At Artrix, we believe in turning problems into opportunities. After successfully solving numerous practical challenges for our cannabis vape customers, we propose that your cannabis vape companies take a page from the beauty industry and launch the latest mini disposable vape category, ArtrixDEMO, as the small sample of your cannabis products. It's a tiny 0.1g disposable vape that sets the record as the smallest of its kind in the world, emphasizing the importance of direct consumer engagement and feedback by utilizing direct-to-consumer mini-sample distribution channels.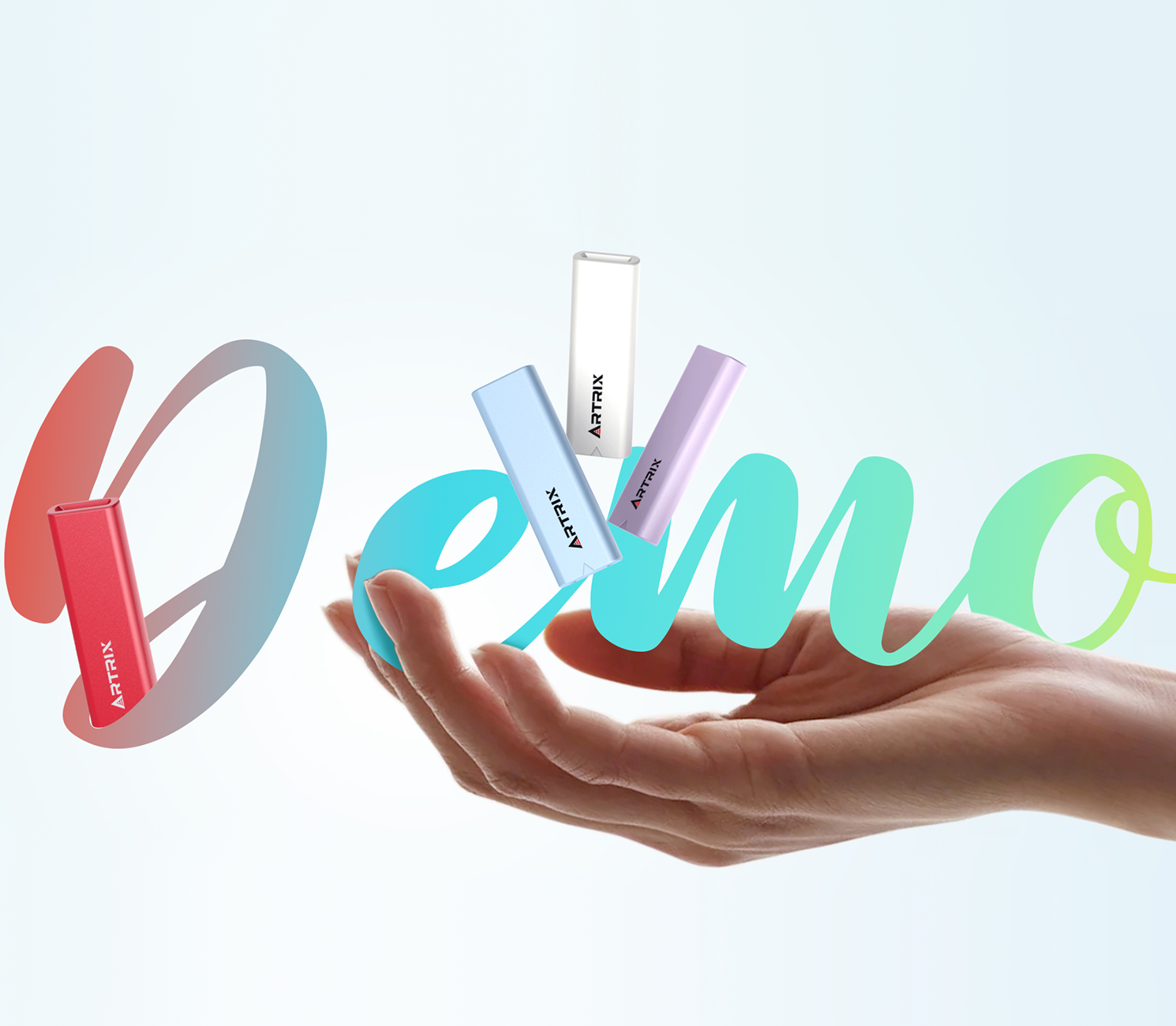 We're using consumer research and clever marketing strategies to gain vital insights into consumer preferences. This information is critical to developing and prioritizing mini-sample products that truly resonate with the market. We're also using direct-to-consumer sales channels, such as online store, to reduce distribution costs and foster a direct relationship with consumers, giving us the insight and agility to respond to market trends.
To keep prices in check, we recommend streamlining production processes through automation and lean manufacturing techniques to manage costs effectively. By forming strategic partnerships and collaborations, especially with suppliers such as Artrix, you can enjoy cost-sharing benefits and stronger negotiating power, further reducing production costs.
In addition, value-added marketing strategies that emphasize the unique experiences and educational aspects of Artrix DEMO can increase its perceived value. Providing consumers with more than just a product – such as tips on use, pairing guides, or information on the unique characteristics of each strain – can justify a premium. By simplifying the decision-making process and offering tailored advice, your cannabis vape companies can improve the customer experience, encourage purchases, and reduce the risk of overwhelming their customers with too many choices.