News & Releases
By Sussi Liu
|
04 September 2023
Artrix's Commitment to Social Equity: 100,000 FREE 510 Carts Available for Cannabis Business Owners
Topics in this article:
Social Equity Program
Drillor
510 cartridge
Artrix, a pioneering solution provider of hardware, marketing supports, and strategy consultation in cannabis vape industry, today announced the highly-anticipated release of Drillor, their revolutionary 510 thread cart that promises to break through barriers and drive social equity in the cannabis vaping community. As part of their commitment to promoting fairness and inclusivity, Artrix is offering an unprecedented 100,000 units of Drillor for free to cannabis businesses and brands in need of support, as the start of their Social Equity Program.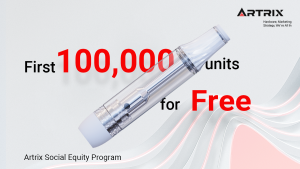 Drillor offers a unique combination of industrial innovation and top-notch manufacturing capabilities, leading to an unprecedented shift in design and affordability. With a cutting-edge industrial design and  craftsmanship, this innovation redefines what you thought you knew about 510 carts, daring to drill through the walls of stereotypes and conventional expectations.
The key feature that sets Drillor apart is its innovative mouthpiece. Designed with comfort and durability in mind, ensuring a pleasurable vaping experience with every use. Utilizing double injection molding and an oil-leakage-proof design, Drillor eliminates traditional rubber rings, reducing labor costs and providing worry-free installation. The exceptional mouthpiece, wrapped in liquid silicone material, offers a soft touch and easy grip, making vaping sessions enjoyable and stress-free.
An added convenience is the groundbreaking addition scale mark on the cartridge, enabling users to check the oil level at a glance. This attention to detail marries operation convenience with oil-filling accuracy, ensuring users bid farewell to overfilling and uncertainty, and instead enjoy a seamless, precise fill every time. The ergonomic grip of the plated brass anti-slip texture at the bottom ensures 510 cartridge removal is hassle-free, creating a comfortable and user-friendly experience.
"Drillor means affordable excellence and uncompromising safety.We believe that everyone should have access to high-quality vaping products,every client we serve is treated with the highest degree of esteem, guided by principles of equality that underpin our approach."Through our Social Equity Program, we want to empower cannabis businesses and brands, providing them with the tools to thrive and succeed."
Artrix's dedication to excellence and safety shines through in Drillor's meticulous design and manufacturing process. From carefully selected raw materials to rigorous quality testing, each Drillor cartridge is crafted to ensure optimal vaping performance with various cannabis extracts, immersing users in a flavorful and satisfying experience with every puff.
As the first product project of Artrix's Social Equity Program, Drillor is a significant strategy taking a proactive step towards promoting social justice and inclusivity in the cannabis industry. By donating 100,000 units to cannabis businesses in need, Artrix aims to foster a more equitable and diverse future for the entire vaping community.
To claim your free Drillor 510 thread carts and be a part of the social equity movement, visit Artrix's official website and register your interest today. Let's work together to build a brighter, more inclusive future for the cannabis industry with Artrix leading the way.
About Artrix – Hardware, Marketing, Strategy, We're All in.
Artrix is an emerging international cannabis vaporizer hardware brand that offers more than just cannabis vape devices. It uses an exclusive three-in-one service model that combines superior product solutions, systematic marketing support, and professional strategic consulting to create a great customer experience. Artrix conducts extensive market research and analysis to understand the needs behind each product and provides localized marketing support to maximize its market potential and success.