News & Releases
By Sussi Liu
|
02 November 2023
Artrix Redefines Cannabis Hardware: Revealing the 3-in-1 Services and 13 Innovative Cannabis Vapes at MJBizCON 2023.
Topics in this article:
MJBizCon2023
Artrix Exhibition
Cannabis Hardware
Keywords: MJBizCon2023, Artrix Exhibition, Cannabis Hardware
Artrix, the leading cannabis hardware brand, is dedicated to providing clients with a comprehensive 3-in-1 business service model encompassing product manufacture, marketing support, and business consultation. From November 29th to December 1st, Artrix will make its debut at MJBizCon, the world's largest cannabis business conference, marking its first official in-person appearance. At the event, Artrix will showcase its groundbreaking 3-in-1 service model, 13 innovative product offerings, professional cannabis vape market analysis reports, and an array of not-to-be-missed offline brand activities.
Key Highlights of Artrix MJBizCon Event:
Revolutionary 3-in-1 Business Service: Artrix offers cannabis clients a full spectrum of services, from product design and manufacturing to business analysis and consulting, as well as marketing material support. This comprehensive service chain covers everything from product planning to production and promotion, helping clients achieve ultimate product success.
–  The Launch of the First Disposable Dab Pen – DabGo: DabGo combines the value of a disposable vape with a dab pen, delivering the ultimate portable dabbing experience. It will make its debut at MJBizCon and is now available for online pre-order for free samples. Simply contact us to provide your details to reserve complimentary samples, which can be collected at Artrix's booth during the conference.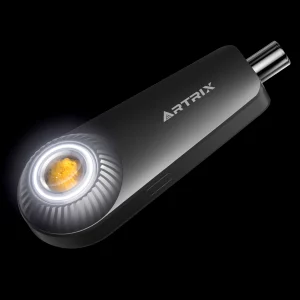 –  The World's Smallest Cannabis Vaporizer – ArtrixDemo: DEMO is Artrix's innovative attempt, inspired by the fast-moving consumer goods industry's sample product strategy. With a 0.1mL capacity and a size comparable to an AirPod, it serves as an excellent product solution for cannabis vape brands to promote their main products through free samples.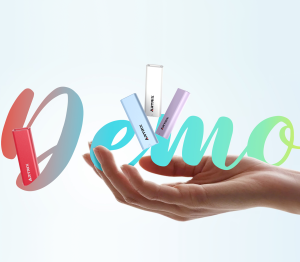 –  13 Original Product Offerings: Artrix will present 13 new products, including disposables, pod-systems, 510 carts, and more innovative categories, providing the cannabis vaporization industry with fresh, original product solutions.
–  Artrix Social Equity Program: In September 2023, Artrix launched its Social Equity Program, offering 100,000 free 510 carts to social equity business owners for their business development. Clients who participate in this program will also receive Artrix's 3-in-1 business service for free. The program will continue through the exhibition, providing an opportunity for interested clients to meet and collaborate in person.
–  Get Your Free 2023 Cannabis Vape Industry Whitepaper: Artrix's experienced market analysis team will present the industry's first whitepaper for the cannabis vape manufacturing sector in 2023, covering consumer markets, product trends, supply chain analysis, and more.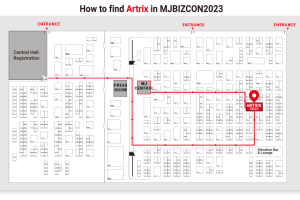 Click the image to find Artrix exact location 
Additionally, Artrix team will feature a guaranteed win lottery with prizes including Marshall speakers, cannabis filling devices, and surprising gifts during this conference.
All product samples, service information, and in-person events will be unveiled at MJBizCon 2023 on November 29th (GMT-7). We sincerely invite you to visit Artrix at Booth #5828. You can also contact us, and we will gladly send you an invitation as our special guest to receive exclusive gifts.