News & Releases
By Sussi Liu
|
20 October 2023
Launch ArtrixDEMO™️ as Cannabis Vape Sample to Boost Your New Product Success in the Cannabis Vape Industry
Topics in this article:
Cannabis Vape Sample
Artrix Demo
Marketing strategies
Keywords: Artrix Deomo, Sample economics, Cannabis vape brands,Cannabis Marketing strategies
If you're diving into the cannabis industry, you're in for a wild ride. With its unique barriers, challenges, and dynamics, it's a whole different beast-like compared to other fast-moving consumer industries. Ever since California gave the green light to recreational cannabis back in 2016, the US cannabis marketing has changed at an almost dizzying pace. From cultivation to the cannabis supply chain, which has continued growth. And what about the consumers? Well, the cannabis consumer market has grown more positive and diverse than ever. Seemed like everything was going swell. But wait, the emergence of a concerning industry issue has revealed to us the other side of the flourish —— In 2022, the survival rate of new products took a nosedive.
2023 Headset Cannabis Market Report Interpretation
Headset, the leading cannabis data analysis institute, released the freshest data that have dropped some truth bombs. The US added a whopping 17,246 vapor products and 47,102 flower products in 2022, in the legacy market. Meanwhile, the emerging market saw 3,537 new vape gadgets and 11,129 flower products. But brace yourself: Despite a significant number of new product launches, the survival rate of new products in the United States in 2022 was only 17%. For perspective? The Harvard Business Review has shown that a hefty 80% to 90% of new product launches don't quite make the cut. When compared, the survival rate of cannabis products appears to be relatively average and normal. However, it's important to note that just two years ago, this data for the legacy market in the United States was 29.9%, and for emerging markets, it was surprisingly 74.3%.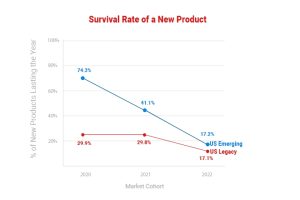 Data Resource: Headset Report 2023
Behind these data and info lurks a gritty challenge that cannabis companies are grappling with – an evil loop of new product flops, followed by a frenzy to launch even more, and guess what? Yep, an extremely low product life cycle. The consequences of these new product crashes are no joke – they're burning through stacks of cash and resources, leaving brands and products lost in the smoke, and killing consumer trust faster than you can say "pass the joint."
1. Tricky Business: Why New Cannabis Products Struggle
It's not just about launching the product out there, but about a complete cannabis marketing solution, which ensures that it can reach more users and cater to the market. There's a myriad of reasons why many new entrants find themselves sinking instead of swimming. For some, it's an inadequate cannabis market investigation, and the lack of data analistic precision and deep user research in product planning and positioning, leading to new products that just don't match the beat of consumer desires. For others, it's the daunting challenge of navigating to the right sales channels for their cannabis products. And even for some big brands, it is inevitable to make missteps. For example, Tilray, a heavyweight in the cannabis vape industry, had to pull off a mammoth recall back in 2019 due to equipment leaks affecting hundreds of thousands of their 510 carts.
Whether it is a cannabis oil manufacturer or a dispensary brand, possibly with the support of millions of dollars, decided to plan these peculiar ideas into their cannabis marketing strategies. This goes to show, even the most seasoned players have the high risk of stepping into the trap.
And while some reasons for failure are evidently predictable, there are plenty of genuinely good products that still miss the mark. The reasons for failures are many and varied: lack of funding, insufficient promotion, bad timing-you name it. It's especially true for new entrants trying to break into the cannabis market. Actually, cannabis products aren't cheap, consumers often hesitate for a while and even consider a lot when they try a new product. For cannabis enthusiasts, trusting a new brand isn't easy, as establishing consumer trust is challenging.
Products launching in the cannabis vape landscape, let's be honest, feels like wading through a jungle without a map. You've got the lack of cannabis market data, insufficient pre-launch testing, and those ever-elusive promotion strategies. Oh, and did we mention the legal maze? It can be both opportunities and pitfalls. But as more stakeholders contemplate how to address this issue, Artrix finds a wonderful path for you: we've sniffed out a golden pathway inspired by the fast-moving consumer goods realm —— the sample economics. It's not just about a revolutionary cannabis marketing strategy, but a business logic that's shaking up the rulebook. Best bit? It's equally applicable to the cannabis vape industry.
2. The Key to New Product Success: "Sample Economics" Hidden in the Fields of Fast-Moving Consumer Goods (FMCG)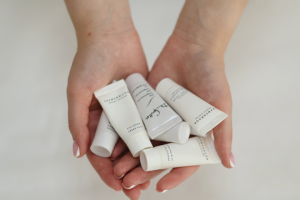 Ever wondered why you often get those cute little samples when you buy cosmetic? There's some smart strategy in the beauty industry behind those tiny giveaways: brands have been handing out samples to customers, which are typically about 10% of the full-sized product, not just to be generous but to lure you into loving their products enough to buy the real deal.
According to Shopify, giving away freebies can boost your sales, amplifying them up to a staggering 20 times the norm. The "In-Store Sampling Effectiveness Report (R.I.S.E.)" backs this up, indicating that after trying those in-store freebies, customers will come back for more, bumping the repurchase rate by 11%. And when a campaign is sample-driven? Their sales shoot up by 177% that same day and still sustain a cushy 57% growth even 20 weeks later. Plus, there's the boon of attracting 85% more new faces and enlisting 23% more distributors eager to advocate their products.
Samples business model isn't just some beauty counter secret. It's the golden rule of the FMCG field. And it begs the question: And it begs the question: why aren't cannabis vape brands diving into this embedded marketing strategy? In fact, a handful in the edibles and burn flower segments have started dealing samples, but the vape scene? It's a wide-open playing field. Perhaps it's time for cannabis companies to launch this tactic from the cosmetic business and see if dishing out samples could be the secret sauce to pushing their latest products.
3. Samples: The Best Entry Point for Cannabis Vape Brands Launching New Products
So, you're a cannabis vape brand and have got this ambitious new product you're itching to drop. But wait, there are three basic head-scratchers you gotta tackle before you blast off. Firstly, you gotta figure if your new brainchild is even gonna vibe with the market. That means accurate strategic planning and fully pre-launch testing to improve the survival rate of your innovations. Wondering how to master this? Samples can be your secret weapon to test the market waters.
–  Peek into the Future: By introducing mini-dose cannabis vape samples, brands can tap into real-time consumer feedback and think product strategy behind. This treasure trove of information can guide precise product planning and support targeted, data-driven cannabis marketing strategy. No more throwing darts in the dark.
–  Address the Issue of Limited Testing and Feedback Before Launch: We get it, launching a new product can be like navigating through a maze blindfolded. But with mini vaporizer samples, you can find the crucial clues. Give consumers a sneak peek, and they'll guide you on what's working and what's not—akin to having a roadmap to success.
Before cannabis vape brands decide to unleash new products into the targeted market, it's crucial to expand and lock down your sales channels. Who's your distributors and agencies? And how are they gonna score your stuff? How to deal with it? Cue in samples. They can be the key to opening doors both online and offline, letting your new creations flow smoothly into the market.
–  Expanding Distributor Networks: Cannabis vape brands can utilize ultra-low dose mini vapes as product samples. This approach allows for cost-effective, low-risk expansion of potential sales channels, subsequently increasing the order success rate of new products. Brands not only invest less but can also effectively protect the core secrets of new products.
–  Exploring Cross-Category Business Opportunities: For brands unfamiliar with the cannabis vape hardware line, these mini vape devices offer an excellent introduction. They can explore and promote with minimal investment, forging more sales channel relationships.
When it's stage for the cannabis product release and promotion, go-to-market strategy can make or break its success. Samples still are the powerful solution. Let's recall memories, ever been reeled in by a freebie at the mall? Or scored a sample box from a brand on your birthday? Actually, samples are a product category inherently imbued with marketing potential. We can directly emulate the practices of other fast-moving consumer goods industries to enhance the success rate of our products.
–  The Ace Up Your Marketing Sleeve: Cannabis vape brands can organize various sample giveaway campaigns to amplify product visibility. By integrating strategies like holiday promotions, loyalty rewards, and in-store promotions, brands can expand their consumer base and foster stronger customer relationships.
–  Trust Building 101: Consumer trust is foundational to a product's success. So, how do brands quickly earn this trust for their new product? Simple, let them try it. In the cannabis vape industry, the relatively higher price point might deter some potential customers. However, with samples in the mix, you're offering a cost-free trial. Once consumers appreciate the product's merits and quality, they're more likely to commit to a purchase.
4. ArtrixDEMO: The First-Ever Product Solution Designed For Cannabis Vape Sample Economics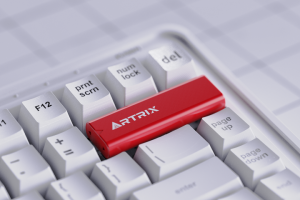 YES! Artrix DEMO is the only answer when you decide to seek cannabis vape samples. As the smallest cannabis vape in the world, with its 0.1g capacity, is as compact as your AirPods. But don't let its mini size confuse you. DEMO is at the forefront of this transformative approach in the cannabis vape industry, designed for businesses as cannabis oil or vape to navigate these market entry challenges, position and promote their products effectively, and flourish in a competitive landscape.
Artrix DEMO isn't just a sample, however, it's your secret weapon of new product success. This tailored product solution empowers cannabis vape businesses to gather real-time market feedback, refine their offerings, and build consumer trust. By providing low-cost entry points and allowing potential distributors and customers to experience product quality firsthand, DEMO is reshaping how cannabis vape products are marketed. So, if you're looking to break free from the evil loop of new product failures and take a leap towards significant success, Artrix DEMO might just be your ticket.
Ready to take the plunge? Artrix provides 1v1 marketing consulting to offer comprehensive cannabis marketing solutions for your business. Contact us to learn more about our cooperation information.