News & Releases
By Jammy Lin
|
13 October 2023
The Cannabis Social Equity Dilemma: Unveiling the Challenges Faced by Minority Entrepreneurs
Keyword: Social Equity, cannabis policy, Artrix Drillor
On June 2, 2023, Minnesota became the 23rd U.S. state to legalize adult-use recreational cannabis, as recorded by the National Conference of State Legislatures. Governor Tim Walz signed a bill allowing state residents over the age of 21 to possess cannabis legally for personal consumption. This move by Minnesota reflects a broader nationwide trend toward cannabis acceptance and decriminalization.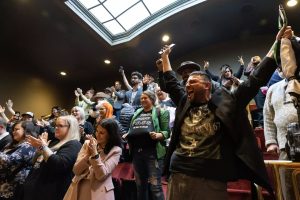 Supporters celebrate as the Senate passes its version of the adult-use marijuana bill at the Minnesota State Capitol
April 28. Picture comes from Ben Hovland | MPR News
Nevertheless, minority groups eager to tap into the cannabis business landscape confront significant social equity challenges. According to the 2022 National Cannabis Equity Report, there are fewer opportunities for social equity applicants and licensees to access timely financing. Using Maryland as an example, the report presents data indicating that out of the 26 cultivator licenses granted in Maryland, only 4 are majority-owned by women or minorities.
The Social Equity Dilemma in the Cannabis Industry
Historically, the war on drugs has left a lasting imprint on the U.S., particularly swelling the prison population. Minority communities have borne the brunt. According to data, black Americans are 3.6 times more likely to be arrested for marijuana than whites, despite similar rates of cannabis use. Previous cannabis convictions further marginalize people from these communities, limiting their business opportunities and access to vital financial resources.
One of the notable obstacles for these minority communities is securing capital. Despite the evident profitability of the cannabis sector, central banks and venture capitalists remain hesitant to invest. This reluctance is often due to existing bans on ownership for those with prior cannabis convictions in many state-sanctioned cannabis programs. As a result, many social equity founders find themselves unable to access the financial resources they need to launch or expand their businesses.
Broadly, equity business owners seeking to enter the industry currently face three principal challenges:
–  Social Inequality: 
The cannabis industry suffers from a concerning lack of diversity, as white and male individuals predominantly own it, while minorities remain underrepresented. This concentration of power in the hands of a select few hinders ethnic minorities from participating in decision-making, resource allocation, and market control. Furthermore, prohibitions on ownership for people with previous cannabis convictions remain widespread in state-legal cannabis programs.
–  Unequal Opportunities:
Due to high barriers in the cannabis industry, including obtaining licenses, capital investment, and establishing production facilities, minority communities face more obstacles. The report points out that Black and Hispanic/Latino households have an average income of only half that of white families. Financial constraints, legal issues, and market access problems limit their opportunities to engage in legal cannabis operations.
–  Difficulty Accessing Capital:
Since cannabis remains illegal at the federal level in the U.S., obtaining loans and other financing options for new cannabis businesses is limited. Many financial institutions are unwilling to take the risk of providing banking services to the majority of cannabis businesses. It can be even more challenging for women as female-owned businesses often receive less funding and fewer resources, such as mentoring and strategic guidance, than their male counterparts.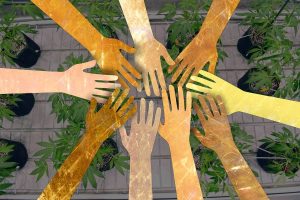 Efforts by Governments and Businesses to Solve the Social Equity Dilemma in Cannabis
In response to this issue, state governments have endeavored to address the barriers by launching the social equity program, a significant step towards addressing the historical injustices wrought by cannabis prohibition, particularly upon communities of color. Established in several U.S. states and municipalities, these programs are designed to ensure that those communities most adversely affected by the war on drugs are now positioned to benefit from the burgeoning legal cannabis market.
"We support local communities. By talking to business owners affected by the War on Drugs and asking them what policies have helped them start or grow their businesses, we are gathering information about what all of us can do to advance our shared commitment to equity," said Eugene Hillsman, DCC Equity and Inclusion Deputy Director in California.
The resources dedicated to social equity programs can vary widely depending on the jurisdiction and its commitment to social equity. The initiative aims to promote diversity, inclusion, and economic upliftment within the industry by offering business licensing opportunities, financial incentives, and educational resources at both the state and local levels.
Some of the resources could include:
–  Vertical Integration Prohibition
In the cannabis industry, a vertically integrated company takes ownership of its entire production process. This includes the cultivation facility, processing area, and packaging and distribution infrastructure. However, some states like Illinois and Washington completely restrict vertically-integrated cannabis operations due to concerns of monopolies and unfair pricing. On the other hand, in Alabama, regulators are authorized to issue only five licenses for vertically integrated facilities, with a requirement that 1/5 licenses are reserved for businesses at least 51% owned by members of minority groups. These restrictions aim to create opportunities for smaller businesses to enter the market and promote social equity.
–  Introduction of Social Equity Provisions
Many states and cities have introduced social equity programs to increase opportunities for minority communities and those affected by social inequality. These programs typically include expunging non-violent marijuana offenses, providing financial assistance to affected communities, and allocating a certain number of marijuana licenses to social equity applicants. The effect has increased the number of minority entrepreneurs in the cannabis industry, potentially reducing racial disparities. However, practical results vary. Long Beach, California, implemented a social equity program that required participants to have a household income at or below 80% of the local median income. While the program provided assistance in finding jobs in the cannabis industry and in applying for a license, only one of the 93 participants obtained a permit.
–  Financial Assistance Programs
To account for economic disparities and facilitate participation in the cannabis industry by impacted individuals, 6 states provide funding to social equity applicants or licensees by way of grants, micro-loans, and no- or low-interest loans. In Vermont, Senate Bill 25 sets aside $500,000 from the state coffers to establish a marijuana business development fund that is slated to provide financial assistance, loans, grants, and outreach to social equity business applicants. Similarly, in Illinois, social equity applicants can apply for a low-interest loan to assist with the expenses of starting and operating a marijuana business as part of the Social Equity Cannabis Business Development Fund.
Entering the Market V.S. Staying in the Market
The regulator's efforts to provide more resources for social equity applicants are commendable, Which is a key for SE entrepreneurs to enter the cannabis industry. While the funds allocated by states like California are a start, they need to address the issue of survival for those with vast amounts of capital, connections, and resources. Numerous social equity applicants, though qualified for grants and other assistance, still lack a deep understanding of the cannabis industry and its intricate legal matters. A comprehensive solution must involve further investment in resources and connections.
Entering the cannabis market may seem like a significant accomplishment, but staying in the market is a whole different game. To ensure long-term viability in the cannabis business world, it is crucial for social equity founders to equip themselves with a comprehensive understanding of the cannabis landscape. This includes, but is not limited to, these crucial elements:
–  Well-informed Market Decision
Firstly, success in the cannabis industry hinges on well-informed market decisions. This entails comprehending consumer data, trends, preferences, and market analysis skills. By staying informed, entrepreneurs can make well-informed decisions regarding product development, customer preference, and marketing strategies.
–  Optimizing Supply Chains
Secondly, optimizing supply chains is crucial to ensure cost efficiency and timely delivery. Maintaining an efficient supply chain ensures that products reach customers promptly and at an affordable price.
–  Creating a Strong Brand
Lastly, building strong relationships with suppliers, customers, and other stakeholders is essential to establishing a positive reputation and securing long-term business opportunities. In the cannabis industry, creating a strong brand that resonates with consumers is significant. By fostering brand loyalty, entrepreneurs can create a consistent consumer base.
Ultimately, entering the cannabis market, while daunting, is only the beginning. Social equity business owners need to continue to adapt, innovate, and build a trusted brand to ensure their voices resonate in an inclusive cannabis industry landscape. Only through such dedication can social equity founders create meaningful change in their community and make the cannabis industry more equitable and thriving.
Artrix: Supporting Social Equity in Cannabis Industry Growth
As a responsible player in the cannabis industry, Artrix is taking practical steps to support social equity within the sector. With its expertise as a leader in cannabis vape business solutions, the aim of Artrix is to offer meaningful assistance tailored to the unique needs of different regional markets, including product support, market insights, product expertise, and marketing solutions.
As the first product project of theArtrix Social Equity Program (ASEP), Artrix will offer an initial batch of 100,000 Drillor 510 threaded cannabis vape cartridge units free of charge to cannabis enterprises and brands in need of support. Additionally, Artrix will offer one-on-one cannabis market consultation and marketing support, providing services tailored to various regional markets.
The ASEP is designed to serve as a bridge, connecting cannabis entrepreneurs who need resources with organizations and businesses that can provide those quality resources. Artrix hopes this program will be the catalyst for lasting social change within the sector. As such, they have committed to donating high-quality cannabis vape products, fostering initiatives that promote sustainability in marginalized communities.