News & Releases
By Sussi Liu
|
15 September 2023
Artrix Announces Revolutionary 3 in 1 ODM Solution – Bringing All-Sided Product Services to the Cannabis Vape Enterprise
Topics in this article:
ODM Solution
3 in 1 Services
Cannabis industry
Artrix, the leading cannabis vape hardware manufacturing and business service platform, is excited to announce the launch of its revolutionary 3 in 1 ODM Solution.
This comprehensive and trusted ODM solutions is designed to empower Artrix customers, enabling them to enhance their product competitiveness and be a productivity company with the support of a professional market team and world-class manufacturing capacity. The 3 in 1 ODM Solution is an all-sided service system that delivers professionalism, analytical precision, innovation, and flexibility to optimize your key product development processes.
Faced with rising consumer expectations and severe product homogenization, cannabis companies are facing increasing challenges in product design and manufacturing.
Cannabis companies require forward-thinking and cost-effective ODM solutions to help them create higher quality and more competitive vaping devices to meet consumer demand and drive business growth.
"Within the cannabis vape manufacturing industry, we noticed that the majority of hardware manufacturers offer only product design and manufacturing services within their ODM solutions. However, at Artrix, we firmly believe that your needs extend far beyond these conventional offerings," CEO of Artrix. "What sets Artrix apart from others is that we don't solely focus on constructing your product, but we also strive for its success from the ideation phase and continuing. At the core of Artrix's ODM solution lies a 3 in 1 service model encompassing product strategy planning, product design and manufacturing, and product promotion.
Artrix believes that an ODM (Original Design Manufacturer) solution should cover the entire lifecycle of a product, from its ideation phase to its ultimate utilization. Through this brand-new partnership, Artrix aims to make every original product more competitive and efficient across positioning, design, manufacturing, sales, service, and marketing. Through each subsequent step."
Artrix is revolutionizing the conventional offerings by adopting an integrated approach that leverages market analysis and insights, cutting-edge product design, advanced automated production lines, and targeted digital marketing services. The innovative approach helps Artrix's clients to achieve new levels of product identity, quality, efficiency, and sustainability.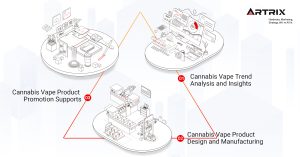 The 3 in 1 ODM Solution is in Pilot Today, and Will Be Generally Available in August 2023.
Artrix collaborates closely with its clients to co-create custom product solutions. This involves offering comprehensive and integrated services that leverage market data and information, cost-effective automated production lines, diverse digital marketing services, and using people that know best.
–  Market analysis and strategy consultation: align with market trends
At the inception of an original product project, Artrix's cannabis market experts and data analysts analyze product positioning and develop effective product strategies. This is achieved by referencing market data, industry architecture, and industry standards in cannabis industry to ensure accurate and innovative product design direction.
–  Product design and manufacturing: improve cost-effectiveness
Artrix helps its clients achieve cost-effectiveness through an innovative and experienced product R&D team and state-of-the-art automated production lines. Leveraging world-leading product design and production facilities, along with international factory production system standards and 100,000 GMP workshops, Artrix ensures top-quality design and manufacturing processes.
–  Product Marketing Supports: achieve product success
Artrix boasts a team of professional and experienced cannabis marketing experts who customize digital marketing promotion solutions based on their clients' specific needs. Artrix clients also gain access to exclusive digital marketing tools and the latest industry data, enabling them to effectively promote their products in the market, reach a broader user base, and unlock maximum value.